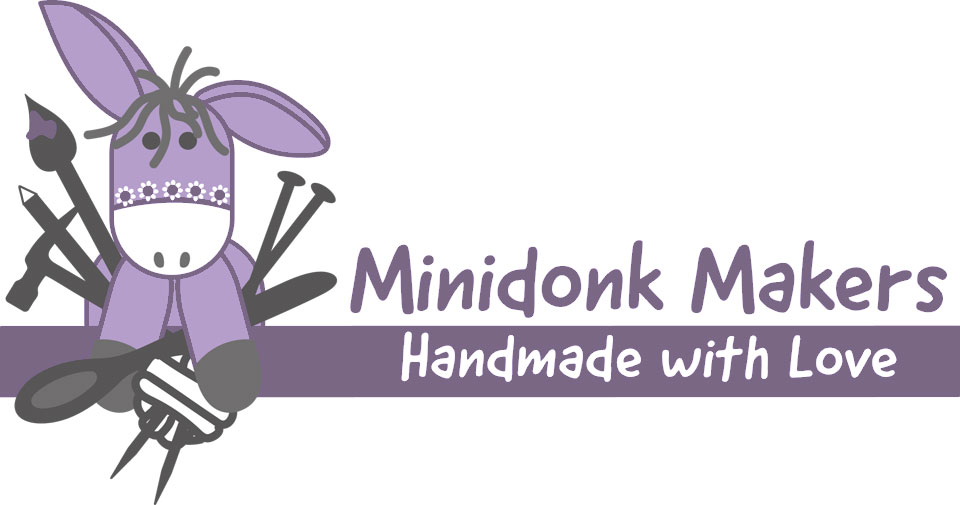 Our 'Minidonk Makers' are a unique group of people who support our not for profit social enterprise by donating not only their time but also the materials to make items for us to sell at public events. For those who find it harder to access materials we provide them – ensuring that the items made are of safe and merchandisable quality. All the money raised through sales goes towards providing 'mood boosting' visits by our group of adorable miniature donkeys to those who have life limiting conditions.
Currently we are developing the idea of working in tandem with local 'crafters' giving them the opportunity to come and sell some of their wares at a number of the larger public events we attend. As a trial in 2022 we are asking for just 15% of their takings to enable them to have a free selling platform – providing them with the opportunity of developing a bigger sales footprint that would be unattainable working independently.
Also we are looking to develop links with local businesses who may wish to make a donation in order for us to secure some of the materials we need or who sell the materials we need to make a variety of our merchandise… for either donations of materials or significant discounts – listing their support at our larger merchandising events and giving them a shout out on our Facebook Page which can reach over 60,000 views.
Thank you all for your kind wishes sent for Saffy. She is currently tucked up in her stable, with hourly feeds of a handful of soaked hay. This will continue through the night, so we are going to take the morning off from Facebook. Don't worry that there is bad news, it just means that we will be having a break. We may even take 2 days off, just to ease the pressure a bit. It can be a bit full-on running this social enterprise.
Thank you for your understanding. ... See MoreSee Less

Take care all of you, sending lots of love x
Sending love and thoughts. It must be super hectic for you carers and the Minidonks 24/7 so please don't put your well being in jeopardy. Just take the time you need ❤️ Get well wishes to sweet Saffy.
Donkey welfare is your priority, always... 💕 We understand and are behind you, every step of the way.. xx
Feel your normal gorgeous self soon lovely Saffy 🧡🧡🧡
Take care all of you love xxx 💖💖💖
Get well soon Saffy. I'm sending you big cuddles. Take care of yourself, Sarah x
Get well soon 🙏 Saffy, sending big hugs, take care all of you and all the mini donkey's 💖 💕 💖 💕 🫏 🫏 🫏 🫏
Oh no saffy xx lots of hugs coming your way X take care everyone 😘
Take care of yourself and the donks 🌹❤
I hope Saffy and you are ok.
So sorry to hear Saffy is unwell x get well soon special girl x you are in the best hands x take care everyone big hugs and lots of healing cuddles for Saffy x 🙏🏻🤗 x 💕🤗🫏🤗🫏🤗🫏🤗💕
Get well soon Saffy ❤️❤️❤️
Lots of love and cuddles for Saffy, (and any other donks around .... ) Wrap up warm you carers - behind you all the way xx❣xx
Get well soon Saffy ❤️❤️❤️
Big hugs to Saffy and all of you ❤ 💓. You work so hard and this cold weather doesn't help !! Take all the time you need, to reboot xxx
Get well soon Saffy lots cuddles xxxxxx🫏🫏🫏
All the loves to you all ❤️❤️
Rest up all of you especially Saffy 😘😘 Hugs for everyone 🫂🫂🫂
Load more