Are you a community group, allotment group, school gardening group, or similar based in the Norwich or surrounding area?
Would you like some of the best garden manure available?
Donkeys digestive systems are twice as efficient as horses. This means that their poo is the garden connoisseur's poo of choice!
One of our happy poo recipients is the Stepping Stones charity.
Stepping Stones is a small, vibrant charity for adults with learning disabilities. Our aim is to enrich lives by building skills, independence and making informed choices.
We are based at our resource centre in north Norwich, with our allotment a short walk away.
We will deliver to your site in loads of approx 30 bags in return for a donation of at least £30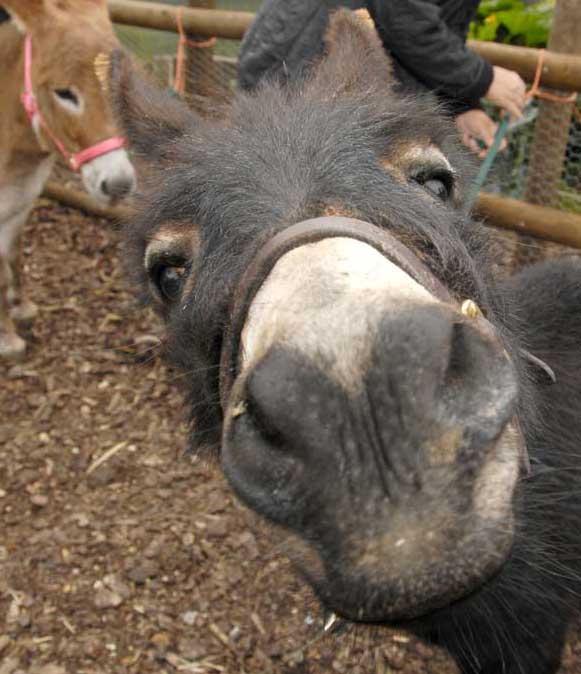 Feedback from previous visits
My mum is one of the residents you refer to. I visited her this evening, words are a struggle but she was definitely trying to tell me about the donkeys! Thank you so much for visiting her.
Pixie and Bo Peep were the best behaved donkeys ever, our residents thoroughly enjoyed their visit… I cannot recommend Sarah, her donkeys and fabulous volunteers enough.
It was the most special visit for our residents, staff and extended families. Thank you so much.
The donkeys came to visit our tenants and Pippin went into the room of a very poorly lady. The look on her face was priceless. Thank you for bringing some joy and love to our setting.
Amazing reactions of residents, especially those with restricted communication. Thoroughly enjoyed the experience. Smiles all round, thank you.
You kindly took two little donkeys into my wife's room, to say it made our day is very much an understatement, in fact my wife said 'it is something I will never forget'.
The main highlight has to be with one resident who never leaves her bedroom. This lady suffers from dementia and the donkeys visited her in her bedroom. As soon as she saw them her face lit up. She absolutely loved them.
We were delighted with your visit, all ages and abilities loved the friendly donkeys.
You get smiles where nothing else can – thank you so much
Thank you, they were amazing. The patients loved them.
Highlights were being able to have the donkeys up close even for residents nursed in bed, to be able to tell residents' families about the visit and have photos to show them. Sarah and volunteers went out of their way to make it a special visit. More visits, more donkeys, we love you!
It was all fantastic but the room visits were the best. Had me in tears the reactions we had.
The residents enjoyed interacting with the donkeys and being able to touch them. They were interested to hear all about them and they loved them being in the lounge as most of the residents are not able to get outside.
You guys (most of all the donkeys) are awesome. Bringing joy and happiness to people who can't get out easily. Keep up the good work
Your visit encouraged the residents outside into the sunshine. They enjoyed stroking and interacting with the donkeys as well as chatting to each other. So nice to see them enjoying themselves. Thank you.